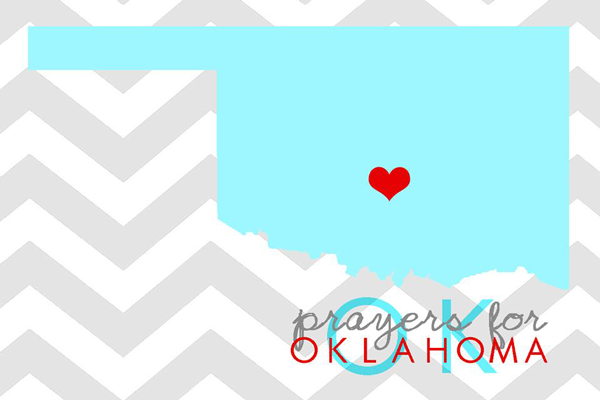 Help with Oklahoma tornado relief

While we do not discourage shopping

 on our site, we think our 

bursting closets can afford a break.  For the rest of this week, 

before you shop

, consider

donating 

part or all

 of your week's

 

shopping budget

 to one of the 

aid organizations assisting Oklahoma

.  

Let it be about someone else first before our closets

. ** Thank You! **
The news of the recent Oklahoma tornadoes is heart wrenching.  It is a reminder that tough times can happen to anyone.  Unforeseen circumstances can put us in a vulnerable situation and it can be hard to stay positive.
 A major tornado is frightening for adults and even more so for children as families deal with loss of possessions and the destruction of their homes and schools.     When all is gone and helplessness sets in, it is important to comfort those affected that they are not alone.  As a US resident (not yet a citizen), I am proud to be associated with the American way of support and generosity shown in times of need.
I jumped in when a blogger contacted us about an online auction she's hosting (auction link later when available).  And in my own time scarce, frustrated way, I want to be so much more involved. For now, I am making a donation to several relief efforts.
Let me know if there is something we can get together to do.
Write Me.
Meanwhile, I spent yesterday looking up agencies that focus on helping 
children in disaster situations

an
d
immediate relief for victims
and I want to share them with you.
  Save The Children is committed to reducing the impact of disasters on children through emergency preparedness, response efforts, child care recovery, psycho-social support and other needed programs.
 Learn More or Donate to Save The Children Here.
.                    
A typical Operation USA relief operation is an air drop into a remote region of a poor country, or an area ravaged by natural or man-made disaster. That sturdy iconic crate carries far more than urgently needed supplies. It brings hope for the recipients-made possible by the generous corporations providing materials and support to make the delivery possible.
The organization is seeking corporate partners for bulk contributions. The city of Moore , Oklahoma lost its community hospital, so medical equipment and supplies are of vital importance at this time.

 **
Here is a comprehensive list of other agencies that need help, including the Central Oklahoma Humane Society and Regional Food Bank of Oklahoma.

Our thoughts and prayers are with the victims and their families.  Please join us in providing much needed immediate aid and supplies to areas hardest hit. 
If you are close to the affected areas, please also be in touch if I/We can be of any help. 
We're a small community of positive women .  There just might be something we can do together to bring a little sunshine back for the kids, especially.  Know that a simple action can make a huge difference, so please don't be afraid to send suggestions my way.
Write Me at Audrey@ConversationPcs.com
Hang in there, Oklahoma!  Angel sends her love to all the doggies too!  XOXO