Becky is hosting a bridal shower for a friend this weekend.  It's a tea party theme and she's asked me to help make yummies.  There are special dietary requirements that made it tricky. The request was no cheese, no grease, no fried foods, no carbs, low sodium, low fat.... we also have vegetarians and a pescatarian.  We took on the challenge gamely and it was decided that I will make her a skinny chicken salad (without using mayo) and these pretty tomato tarts.
I used the extra package of pie crust from chicken pot pie last week, but for the bridal shower, I will be using puff pastry, for that pretty, flakey, airy crust. I'll update the post with a picture of that later.  Yum!
I love how easy, pretty and nutritious this recipe is.  Loaded with antioxidants and vitamins. Perfect for a glowing bride!
There are only 3 items for this recipe.  
- Pie crust or puff pastry.  Store bought.
- Tomatoes.
- Basil
- A little olive oil, salt, pepper.
- Cookie Cutter.  I love cookie cutters.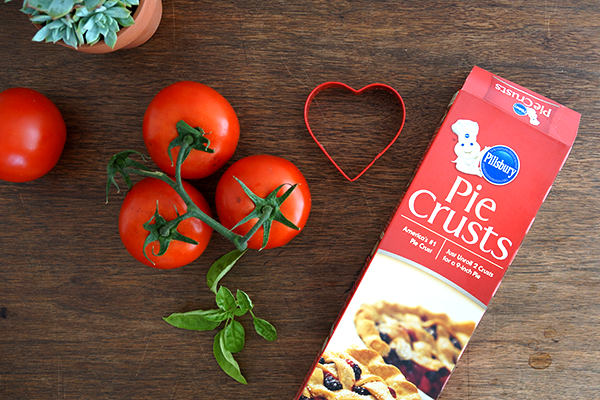 Pick tomatoes that are about the size of your cookie cutter.  You'll see why later....
And pick a cookie cutter that is 'squarish' like the one I am using here.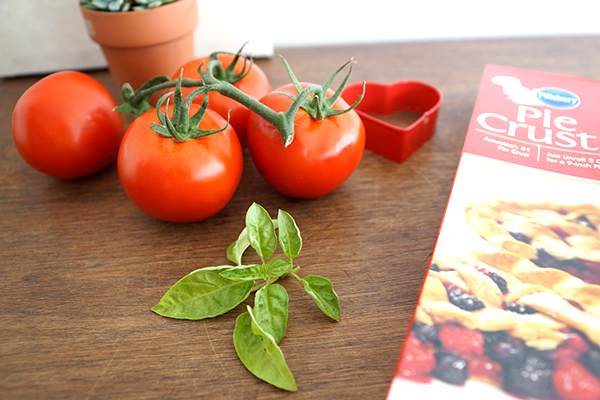 These are from my garden! I almost killed it (I think) using literally all the leaves for one of my recipes.  How did I forget that plants need leaves to make food to sustain themselves?!?  I didn't give up on it but it sat on my kitchen window sill for a long time and wouldn't grow.  One day, I showed my gardener what I had done.  He said not to give up on it, prune the leaves often to encourage growth.   So I followed instructions and thank goodness it bounced back!  I think gardeners are the unassuming wise people who know just how the universe works.  Don't you?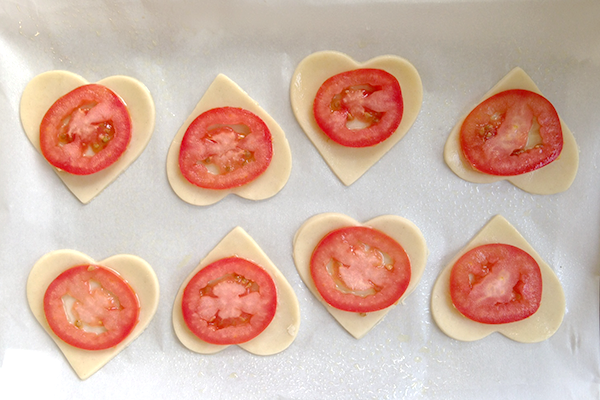 Preheat oven to 375 deg.
Prepare baking tray.
I love parchment paper.  Nothing sticks to it.  :)
I give it a spritz of PAM so my tart bottoms will be equally golden brown.
Follow defrost instruction on pie crust/pastry puff package.  
Roll out crust, then use cookie cutter to cut hearts.
Place a slice of tomato on each heart.
Add a dash of salt and pepper if you like.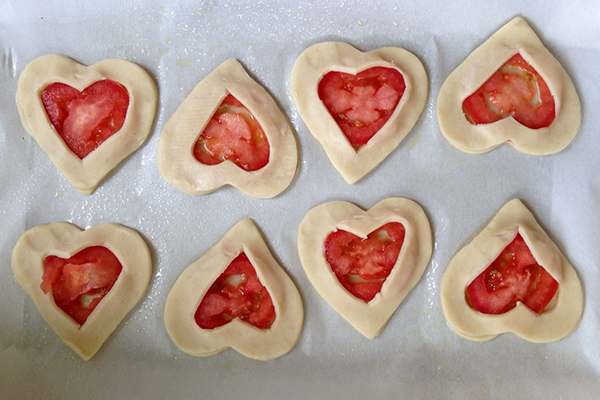 Cut another set of hearts.  Use a smaller cookie cutter or knife to remove part of the crust to expose the tomatoes.
Gently crimp the edges with a fork.
Give it a spritz of PAM and pop it into the oven for about 12 minutes or until golden brown.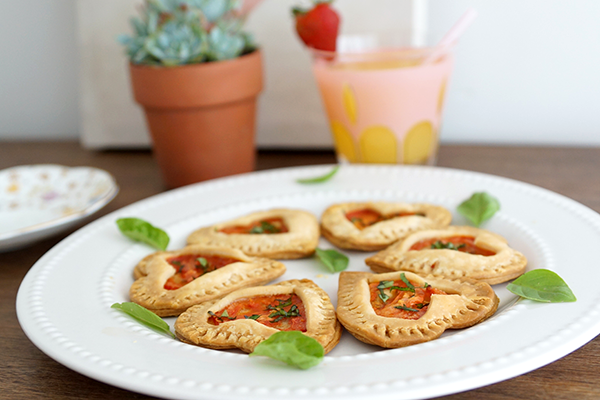 Tahhhh Daaaahhhh!  Top your healthy tarts with basil....  or crumbled feta cheese... or goat cheese.... or my favorite is a simple dip dish of olive oil and balsamic vinegar.  
Both tomatoes and balsamic vinegar are great anti-aging agents. Among other properties, balsamic vinegar also contains acetic acid, an ingredient very useful in weight management. It slows down the passage of food through our gastrointestinal tract, helps us stay full, prolongs the feeling of satiety and keeps hunger pangs away.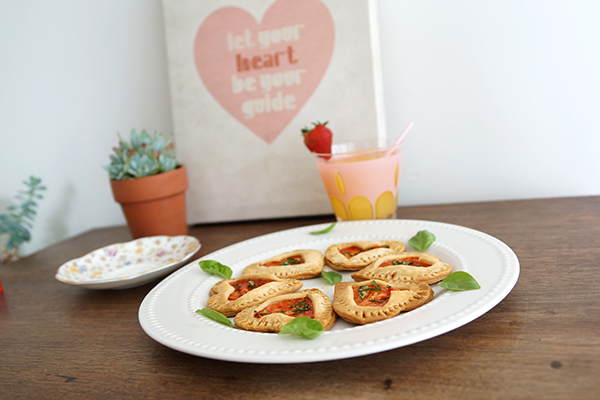 Make an equally pretty drink...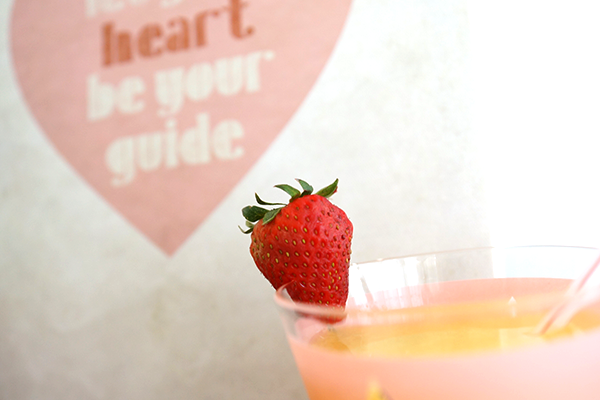 This is from my plant too!  I got to it before the squirrels did today!  :p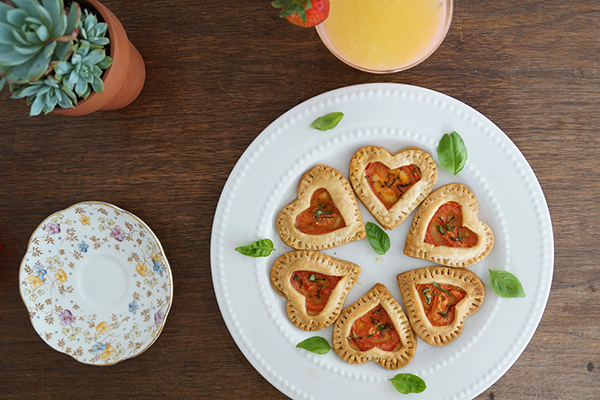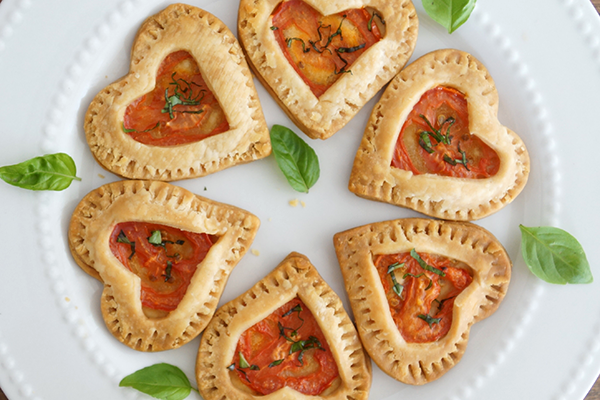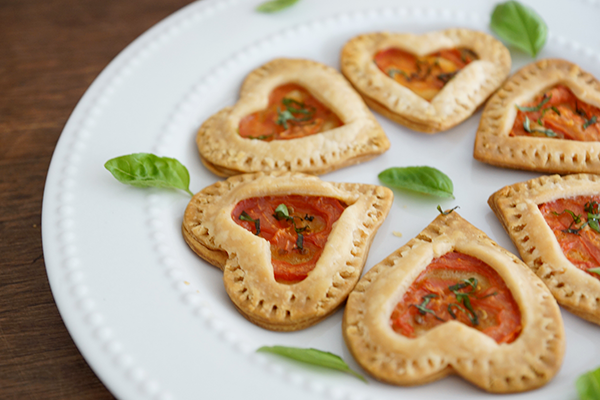 We did it!
I think we fulfilled every requirement.
Now, we have a glowing, youthful, slender, blushing bride!  :)
Tomorrow, I'll be making dozens of these for the event, but with puff pastry.  Pics later!

xoxo